Walker Number 5
---






















---
Schematics!
---
About 1 week ago, I was at ROSS (dress for less) and found a Discovery Channel (LearningCurve) Robotix kit. It was the CyberArm one. It has two gearmotors in it that run on 3-volts-DC (two AA battery packs for each motor). One gearmotor is what they call "high-speed" and the other gearmotor is what they call "high-power". I bought this kit on sale (dumping?) for $10.00US. The battery cases allow forward and reverse motor rotations with their built-in switch. I took it home and put it together as a "walker".

My son-in-law and his two boys watched in gleeful anticipation of it walking. I could get it to walk but only by manually running each motor (and rotation, tricky) separately. Since then my son-in-law found another same box for $8.00US.

Since then, I have found the battery pack and "high-speed" gearmotors combination at etoys.com for $4.95 each. I bought four of them. (They are now out of business, bummer.)

The price for the "high-power" motor is $14.95. It comes with the battery pack and also an extension cable.

---

Robotix did send to me a catalog of prices for replacement parts, and the "high-power" (low-speed) gearmotor (#25) is $9 and the "high-speed" gearmotor (#25) is $10.00.

---




I have put it together so that it now walks. I put the low-speed motor up front for the back/forth front legs and the high-speed motor, on the 45 degree tilting forward, rear lifting legs. I used 74AC14 PNC microcore (2M & 0.22uF) and 74AC240 motor driver. Since I use 6V alkaline batteries, I put a dropping diode in series with the +battery lead to get the chip voltage down to about 5.5 volts. The two extra 74AC14 gates I hooked up to Nv 1 & 3 outputs for LED's later. This could give blinking "eyes" as it runs.

These motors are NOT hi-efficiency types, in my opinion, even though they do run on 3volts (two AA batteries). They do need an H-Bridge or doubled 74ACxxx drivers before they will run. I tested each of the four motors that I got from etoys.com and one of them goes faster in one direction than the other direction. I opened one of them, the motor is large, gears are all plastic. Kinda reminds me of the insides of a servo motor. It seems to have some kind of "slip-clutch" that 'clicks' when it comes to an unmoveable limit.
---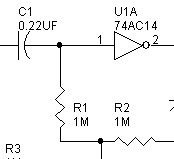 And here's the schematic that I used.

---
Paul T. Barton

This page updated: February/27/2002