PhotoVore
---


































---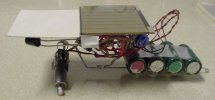 Using: [M] Z12V8A pagermotors. ($3.50 @ WackyWilly's w/weight attached)
Dual SE, Four 1500uF caps, two PD's, one solarcell. Paperclip wire frame w/fuseholder motor mounts.


Bottom View: Shows PD's and how they plug-in. Can be unplugged to test various types. Black Paper PD cover is double-sticky heat resistant paper.


Front View: Tires are that same plastic tubing and a little short, they need to be slightly longer for more grip.

---
Paul T. Barton

This page updated: April/29/2002