BEAM Bugs
---







































---
This site is mostly two motor walkers, with some other stuff too.
---

First one: A walker, really crude, but it walked., missing in action (MIA).

Number 2: First experience with gear-sets and making them.

Number 3: Really smooth walker, first good one, still have it, still walks.

Number 4: Nihon mini-motor walker, really close to Chiu's. MIA. Legs, frame & IC-module in tool box.

Gear Set: How the purchased AC motors were converted, 1/3 RPM gear sets.

B-Head: Bridge Head stuff, also pix of Jack-In-The-Box antenna balls with light-seeking circuit inside. New: "FootBall Hat" Jack.

Robotix: Large plastic walker, really slow, really inefficient gear-motors. Kinda like the BIObugs gear-motor motors (inside) seems to be the same kind of DC motor. MIA.

Bugger: Probably the smoothest one built yet. With movie. Kept on shelf.

Symet: Several attempts to get them to work correctly. One left.

Turbot: Two each flip-flops. Both with microcore driven by PD-bicore. MIA.

Biggie: A really spidery looking walker. Has 'ear' cups for photo-transistor light blockers, now with pix. It sits on the shelf.

Slider: Three motor slider with rotating feet, MIA.

16LF84: Number 2 converted to a PIC walker. Legs totally revamped. Still in action.

Spyder: Well here are all the Nihon gear-motors (8) missing above. Not a clone, but kinda close. PIC controlled for now, Nv later. Currently working on this one. Now with movies. Walks! Feb 27, 2002.

KTBluesCat: Had loose parts laying around, a 74HC240 BiCore walker. Because she asked for one. The eyes are broken for now, can be fixed later. It walks quite briskly, double the speed of the MicroCore walkers.

Whizzer: This is the result of Wilf Rigter's photovor1.gif schematic. Two now exist.

Photovore: Shows pix of a 'Dual SE Photovore' using pagermotors & 1381's.

Cylon: A circuit board I picked up in the past. Is the simulation of the BattleStar Galacticia "Cylon" eyes.
---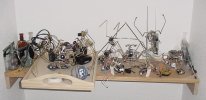 ---
Paul T. Barton

This page updated: May/31/2002